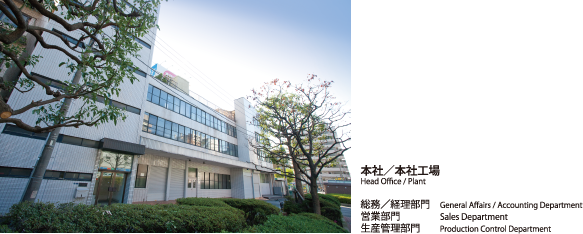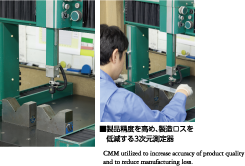 品質保証/環境への取り組み
Quality Program and Environmental efforts
一貫体制のプロセスで「品質管理部門」が占める役割はとても重要です。当社では、'08年にISO9001を取得し、製造段階からの体系的な品質管理を実施しています。さらに信頼度の高い製品を輩出するために経験豊富なスタッフが細心の注意力で製品検査に臨んでいます。また、環境問題において'00年にISO14001を取得しています。地球環境を大切にし、環境保全活動を推進し地域社会に貢献しています。
Our quality control section plays an important role in the in-house coherent system. Our company acquired ISO9001 in year 2008 and has maintained a systematic quality control system from manufacturing process to shipping. In addition, our experienced employees at the inspection are working with their utmost attention to provide the most reliable products to the customers. Regarding environmental efforts, we have acquired ISO14001 in year 2000 so as to respect the environment. We promote environment conservation activities and are engaged in community programs.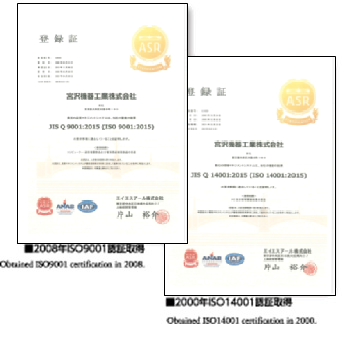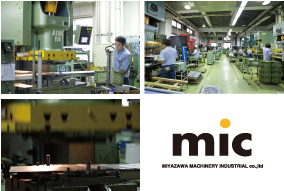 We handle coherently from design to manufacture of parts for all kinds of devices and electric equipments.
We are ready to suit your needs with swiftness and precision.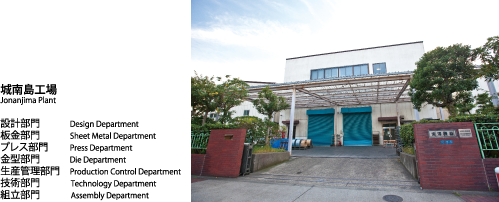 Design Department
通信、コンピューター関連パーツ、ファクシミリ、複写機等パーツの金型・治工具の設計では、早くからCADシステムを導入。さらに3次元CAD導入以降は、クライアントサイドの部品図面を基に、実製造のプロセスを踏まえ、より安価で品質の安定した部品づくりに独自の提案を行うなど「信頼されるパートナーシップ」を発揮しております。また、打ち合せ、チェック等を含む双方向情報伝達の最新ネットワークにも、コスト面の効率化を考える上からも果敢に取り組んでいます。
Our designing section has developed strong background in designing tools and jigs for all kinds of electric parts including telecommunication device parts, computer components, fax machine parts and copy machine components with the use of CAD system from an early stage. After adopting three dimensional CAD, we have gained "reliability as a business partner" by providing customers with original business proposals based on customers' drawings. With the use of the system, we are able to find out the best plan to continue high quality at low cost, based on the actual performance of our facility. Furthermore, we are fighting to set up the latest interactive communication network for online meetings and data confirmation to minimize cost.

Press Department
●サーバ向け部品 精密プレス加工
●複写機・プリンター部品 精密プレス加工
●カラー液晶部品 精密プレス加工
●ルーター用シールド板金 精密プレス加工
・ Precise stamping for server components
・ Precise stamping for copy machines and printers
・ Precise stamping for color LCD parts
・ Sheet metal precise stamping for router shields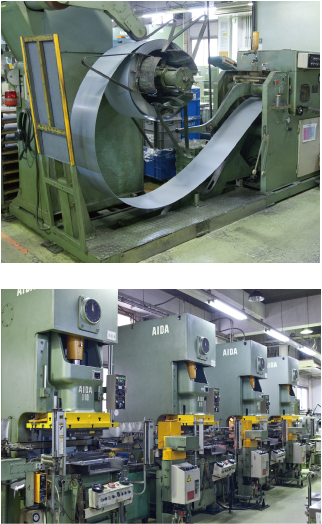 Sheet Metal Department
●通信機器、サーバー等筐体板金加工●金融端末部品板金加工
・ Sheet metal pressing for telecommunication devices and server chassis ・ Sheet metal pressing for teller machine parts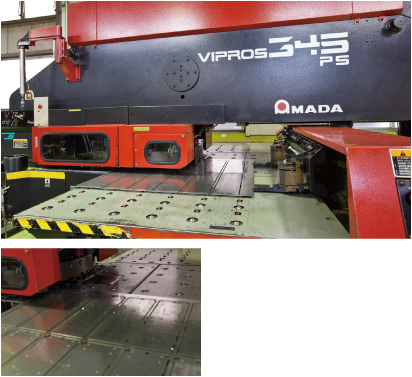 Die Department
●ワイヤーカット ROBOCUT χ-1iA ●マシニングセンター BM-114MC
・wire cut・ROBOCUT α1iA  ・machining center BM-114MC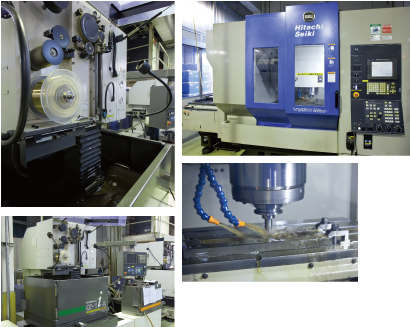 We removed any "impossibility", "unproductiveness" and "unevenness" and employed
Just-In-Time System (Kanban System) which is an engineering system
to enhance economic efficiency,
to manufacture the exact amount of the exact product at the exact moment.

Assembly Department
●複写機・プリンターユニット組立
●通信機器、サーバ筐体組立
●カラー液晶、ベゼル部品組立 
・ Copy machines and printers assembly
・ Telecommunication devices, server components and server chassis assembly
・ Color LCD and BEZEL parts assembly